It is easy to google "How often should I replace my toothbrush"... How many people actually make it past the first couple results? Any article, which states the life span of a single toothbrush is "3-4 months or less", are only repeating the same arbitrary statement made by the same organization a long time ago without the justification of any true scientific test. Real scientific research shows time and time again that a calendar cannot clearly define the effectiveness of any toothbrush. It's like saying you should water your plants everyday. You can guess the average, but the real answer is, you water when they are dry.

Extensive testing on the effectiveness of any toothbrush's bristles show that by the very first sign of wear, a considerable decline of plaque removal capability has already begun. If you are brushing regularly, as directed by your dentist, even the most durable bristles's peak of efficiency is between 2-4 weeks. That's a big difference!
​
Our All-Natural Bamboo Toothbrushes are not designed to last months or even years like our plastic competitors. Why make a toothbrush that lasts 1000 years when it starts to lose its effectiveness before 30 days? Worse yet, they sit in our landfills and oceans all that time. The 100% plant-based bristles in our brushes are infused with activated charcoal, which also begins to lose its effectiveness around the 30 day mark. For this reason, we have designed an eco-friendly toothbrush program that provides you with an all natural, disposable alternative to plastic and conveniently delivers to your home with a reminder that its time to swap out. We remove the guess work, leg work and guilt trip from your oral hygiene habits. ​
Below are factual, government issued scientific reports detailing everything previously mentioned. There was no monetary incentive for this research as it directly goes against best interests of popular corporate manufactures. Decide for yourself..​

https://www.ncbi.nlm.nih.gov/pmc/articles/PMC3847535/#!po=94.3182

https://onlinelibrary.wiley.com/doi/full/10.1111/idh.12370
​
The purpose of this study was to investigate the effect of progressive toothbrush wear on plaque control. At baseline (week 0), each of 20 subjects was given a new toothbrush which they used for the 9-week period of the study. At weeks 0, 3 and 6, all plaque was professionally removed. The amount of plaque which accumulated in each of the 3 successive 3-week experimental periods was assessed at weeks 3, 6 and 9. Toothbrush wear was evaluated by measuring the increase in the brushing surface area of toothbrushes at weeks 3, 6 and 9 as compared with week 0. The brushing surface area was measured by computer analysis of tracings of the brushing surface outlines obtained from standardized photographs. Despite progressive toothbrush wear, the amount of plaque which accumulated in each successive 3-week period decreased. The decrease in plaque scores between weeks 3 and 6 and between weeks 3 and 9 were found to be highly significant (p < 0.001). Toothbrush wear varied widely amongst the subjects. When plaque scores were evaluated for the 10 subjects with highest toothbrush wear, and the 10 with lowest wear, no significant differences were found between the 2 subgroups. Under the experimental conditions of this study, progressive toothbrush wear did not lead to a decrease in plaque control. The improvement in plaque scores may have been due to motivational effects resulting from study participation and anticipation of oral examinations. It was concluded that the wear status of a toothbrush may not be critical in ensuring optimal plaque control.
Why Should I Replace My
Toothbrush Every 30 Days?
By 4 weeks, bristles have deformed which greatly reduces their ability to remove plaque.


Worn and damaged bristles can cause physical harm to your gums while also holding in more germs.


Once your bristles no longer look new, it's time to replace your brush!
Acceptable but showing wear

Time to have a replacement handy
Brush must be replaced

Bristles are no longer removing plaque

Damaged bristles hold onto harmful germs
https://www.besthealthmag.ca/best-you/oral-health/5-things-your-toothbrush-wants-you-to-know/
---
---
https://advanceddentalofnewwindsor.com/blog/often-change-toothbrush/
---
---
https://www.quora.com/Is-it-bad-to-use-a-worn-out-tooth-brush
---
---
https://www.businessinsider.com/how-often-to-replace-your-toothbrush-according-to-dentists-2018-1
---
---
https://curiosity.com/topics/this-is-how-often-you-should-replace-your-toothbrush-curiosity/
---
---
https://www.womenshealthmag.com/health/a19917707/how-often-to-change-toothbrush/
---
---
https://www.everydayhealth.com/dental-health/how-often-should-you-replace-your-toothbrush.aspx
---
---
https://www.bustle.com/p/what-happens-if-you-dont-change-your-toothbrush-enough-theres-a-host-of-gross-af-issues-waiting-to-happen-7519353
---
---
https://www.myplatinumdental.com/blog/2016/04/why-should-i-change-my-toothbrush-regularly/
---
---
https://www.sharecare.com/health/healthy-teeth-and-mouth/how-often-should-replace-toothbrush
---
---
https://www.wsj.com/articles/SB10001424127887324073504578109253734465538
---
---
http://www.kidsdentalonline.com/dental-topics/change-toothbrush/
---
---
https://sites.psu.edu/siowfa16/2016/12/01/bent-bristles-might-be-time-to-change-your-toothbrush/
---
---
https://www.azumio.com/blog/health/is-it-time-to-replace-your-toothbrush
---
---
https://alamoanadentalcare.com/how-often-should-you-replace-your-toothbrush/
---
---
https://www.wahlersfamilydentistry.com/faq/brush-toothbrush-should-brushes-bristles/12391
---
---
https://www.realmenrealstyle.com/teeth-brushing-mistakes/
---
---
https://www.familydentistryofcolumbus.net/how-often-should-you-replace-your-toothbrush-columbus-ga/
---
---
https://www.reviewed.com/home-outdoors/features/heres-how-long-your-household-essentials-should-last
---
---
https://www.wintergardensmiles.com/is-it-time-to-replace-your-toothbrush-or-brush-head/
---
---
https://toothadvocates.com/how-long-should-a-toothbrush-last/
---
---
https://share.upmc.com/2017/03/when-to-change-your-toothbrush/
---
---
https://www.distinctivelydental.com/how-often-to-replace-toothbrush/
---
---
https://cosmeticdentistryoflascolinas.com/often-replace-toothbrush/
---
---
http://www.michaelawarrendentistry.com/about/blog/cleaning-prevention/how-often-should-i-replace-my-toothbrush.html
---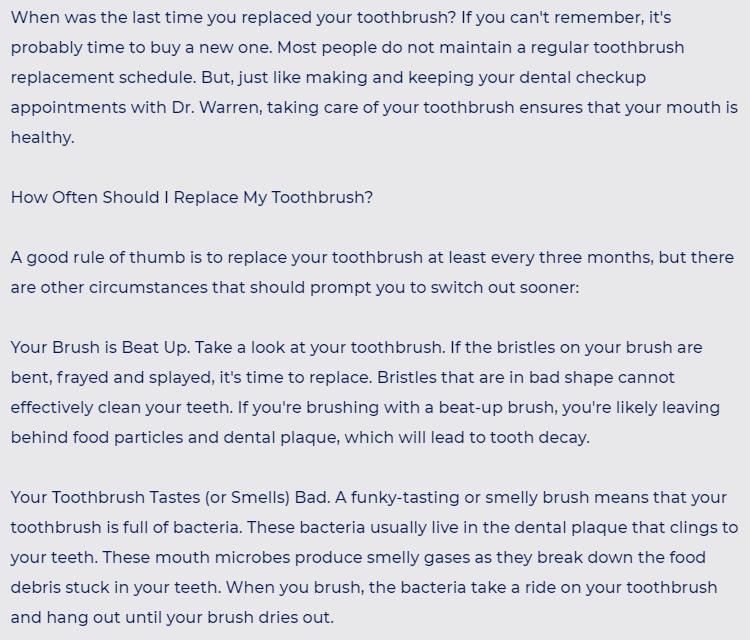 ---
https://www.prevention.com/health/a20500409/what-if-you-dont-replace-your-toothbrush/
---
---
https://www.beautifulsmilesoflongisland.com/often-replace-toothbrush/
---
---
https://docbo.com/replace-toothbrush/
---
---
https://justthetooth.com/toothbrush-tips/when-should-you-change-your-electric-toothbrush-heads/
---
---
https://www.smileforeverdental.com/blog/87728-when-should-you-change-your-toothbrush
---
---
http://bolivarfamilydental.com/2013/03/14/is-it-time-to-replace-my-toothbrush/
---
---
https://www.shdc.com.au/blog/when-should-you-replace-your-toothbrush/
---
---
https://askthedentist.com/is-your-toothbrush-making-you-sick/
---
---
https://www.aurorahealthcare.org/patients-visitors/blog/is-it-time-to-ditch-your-worn-toothbrush
---
---
https://mysagedental.com/how-often-should-i-change-my-toothbrush/
---
---
https://www.mydomaine.com/how-often-to-replace-your-toothbrush
---
---
https://nearsay.com/c/304834/78447/3-signs-its-time-to-replace-your-toothbrush
---
---
https://brechondental.com/is-it-time-to-change-your-toothbrush/
---
---
---